The Nauti Sisters:
There are 3 Gaiero girls: Alicia, Amy and Chelsea Gaiero.
Alicia is the founder and visionary for the small scale oyster farm in Yarmouth, Maine. Alicia is the oldest of the 3 girls who all grew up in the beautiful town of Belfast, Maine.
In early February of 2020, Alicia began the process of establishing her aquaculture farm. Inspired by her experiences in Maine and abroad she decided she would take the ship by the wheel and embark on a unique journey of farming oysters.
Three years later, Amy graduated college and jumped in to take on the role of farm manager. She manages farm and team from early spring through late December when the oysters are put to rest on the sea floor for overwintering.
The youngest of the 3 sisters is Chelsea who may have the most diverse experience in Maine's working waterfront. She has worked throughout all seasons for the family business but has also worked on the stern of a lobster boat, as team member for a mussel farm and she is willing to jump into nearly any role that asked of her on the water.
Support the farm!
Looking for something for someone special? A gift from our store is the perfect idea!
Shop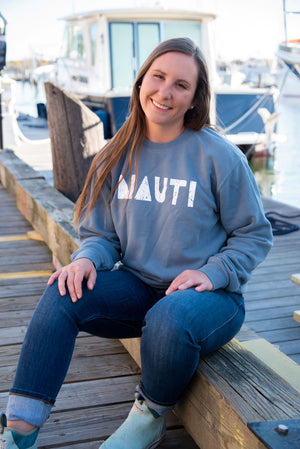 Nauti Sisters Crew Neck - Slate Blue
Sale price Price $50.00 Regular price Unit price / per