Meet the farmer: Alicia Gaiero
Alicia is the owner and operator of Nauti Sisters Sea Farm, a small scale oyster farm in Yarmouth, Maine. Alicia is the oldest of 3 girls in the Gaiero family and grew up in the quirky, beautiful town of Belfast, Maine. While completing her senior year of college at the University of Maine at Farmington, Alicia began the process of establishing her aquaculture farm. Now she manages her farm from early spring to late fall until the oysters are put to rest on the sea floor for overwintering. In addition to managing all aspects of her farm she also simultaneously works to build her other business, Maine Coast Marine Maps & Consulting.
Support the farm!
Looking for something for someone special? A gift from our store is the perfect idea!
Shop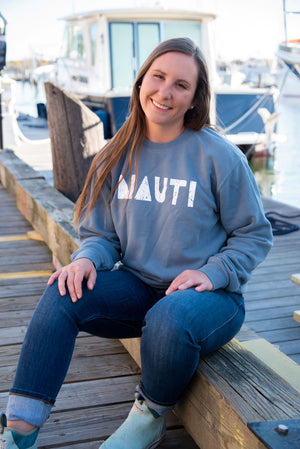 Nauti Sisters Crew Neck - Slate Blue
Sale price Price $50.00 Regular price Unit price / per